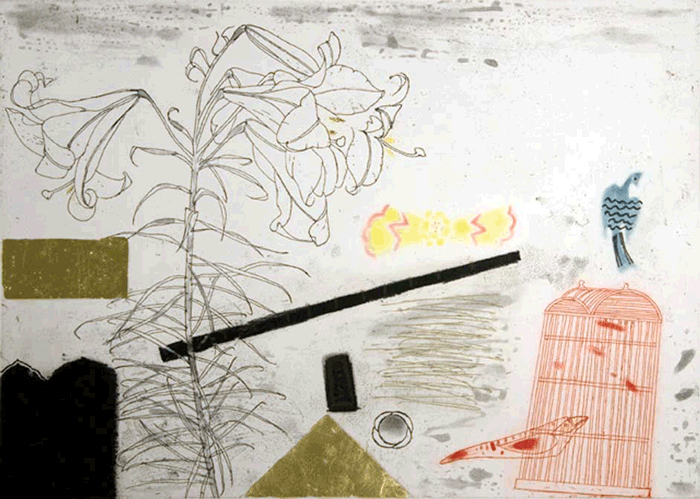 Still life With Lily And Flute, Elizabeth Blackadder
The Mozart Portfolio was a co-production with the Royal Academy in association with the Sunday Times in 1990 and marked the 200th anniversary of Mozart's death. Six prominent Royal Academicians were commissioned to produce original images inspired by Mozart.
Elizabeth Blackadder's Mozart inspired image is a beautiful still life in her own distinctive style.
The six Royal Academicians are:
John Bellany
Elizabeth Blackadder
Peter Blake
Eduardo Paolozzi
Tom Phillips
David Tindle
Two-plate etching in six colours and gold leaf, printed at Glasgow Print Studio on 300 gsm Somerset satin.
Paper size: 25.5" x 20". Image size: 18" x 13"
---
About The Artist
Dame Elizabeth Violet Blackadder, DBE, RA, RSA is a Scottish painter and printmaker. She is the first woman to be elected to both the Royal Scottish Academy and the Royal Academy.
In 1962 she began teaching at Edinburgh College of Art where she continued until her retirement in 1986. Blackadder worked in a variety of media such as oil paints, watercolour, drawing and printmaking. She attended Glasgow Print Studio where she worked with print makers to produce etchings and screen prints of flowers. In her still life paintings and drawings, she considers space between objects carefully. She also paints portraits and landscapes but her later work contains mainly her cats and flowers with extreme detail.
Her work can be seen at the Tate Gallery, the Scottish National Gallery of Modern Art, and the Museum of Modern Art in New York, and has appeared on a series of Royal Mail stamps.
---