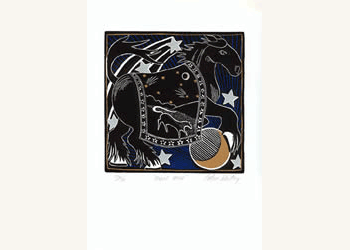 Night Horse, Cathi Whiting
Original screen print in 4 colours, printed by the artist at her studio in Helpringham, Lincolnshire in an edition limited to 500 numbered and signed copies on 240gsm Rivoli paper.
---
About The Artist
Cathi Whiting was born in the Ashdown Forest, Sussex, in 1957. She trained at the Winchester School of Art. In 1980 she moved to London and worked editioning fine art prints for other artists as well as making her own prints which have been published by London Contemporary Art and Felix Rosenstiel's Widow and Son.
---