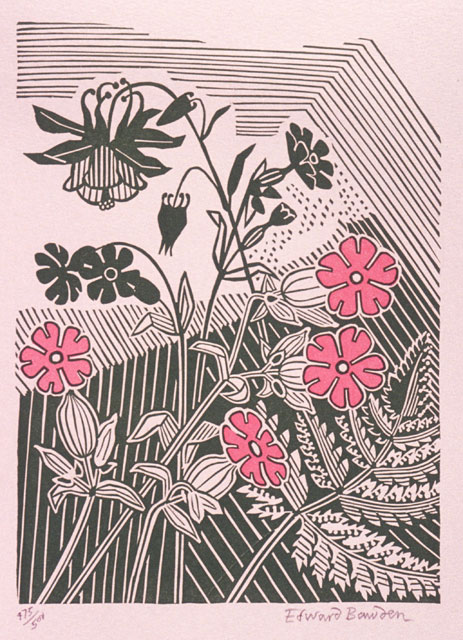 Campions And Columbine, Edward Bawden
Campions and Columbine is a linocut originally commissioned in 1947 as an illustration for Signature (Curwen Press) in which it was reproduced by lithography. It is here printed directly from the lino block in an edition of 500 copies on 225gsm all rag paper, mould-made at St Cuthbert's Mill, Wells, Somerset. The printing has been undertaken by Sebastian Carter at The Rampant Lions Press, Cambridge.
Extremely limited stock
---
About The Artist
Edward Bawden was born in Braintree, Essex in 1903. He won a scholarship to the Royal College of Art in 1922, where he was a contemporary of Eric Ravilious who became his great friend. The first major commission for both was the joint production of a mural for Morley College in London. While still at the Royal College he established his long association with the Curwen Press. Curwen and the artists working for them were at the forefront of the renaissance in art and design then taking place, and Bawden rapidly established a reputation as an outstanding designer and illustrator.
In 1940 he was chosen to be one of the first official war artists. This appointment took him first to France with the British Expeditionary Force, and following Dunkirk, to the Middle East and North Africa. After adventures and trials which included being torpedoed and spending five days in an open boat, he finished the war in Italy.
After the war his work was in great demand. He illustrated numerous books, executed murals (notably for the Lion and Unicorn Pavilion at the Festival of Britain), illustrated a famous series of advertisements for Fortnum & Mason and regularly exhibited water colours, lithographs and linocuts. In 1956 he was elected an R.A. In 1989 his work was the subject of a major retrospective exhibition at the Victoria & Albert Museum.
---
Other Prints By This Artist