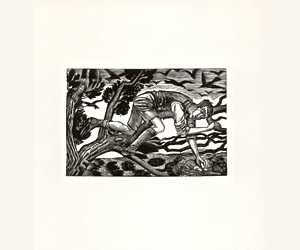 Boy Bird's Nesting, Eric Ravilious
An original engraving on boxwood printed from the original block by Ian Mortimer at I. M. Imprimit in an edition of 500 copies on 245gsm Zerkall mould-made paper by permission of the Ravilious family.
Boy Bird's Nesting was first exhibited in an edition of 15 copies priced one guinea in 1927 at the Eighth Annual Exhibition of the Society of Wood Engravers.
Very limited stock.
---
About The Artist
Eric Ravilious was born in London in 1903. He studied and later taught at the Royal College of Art. He is now recognised as a key figure of the great renaissance period of English art and design in the 1920s and 30s. His wood-engravings for the Curwen, Nonesuch and Golden Cockerel Presses and design commissions for Wedgwood represent his best known work. He was also a distinguished painter. He died in 1942 on active service as a war artist.
---