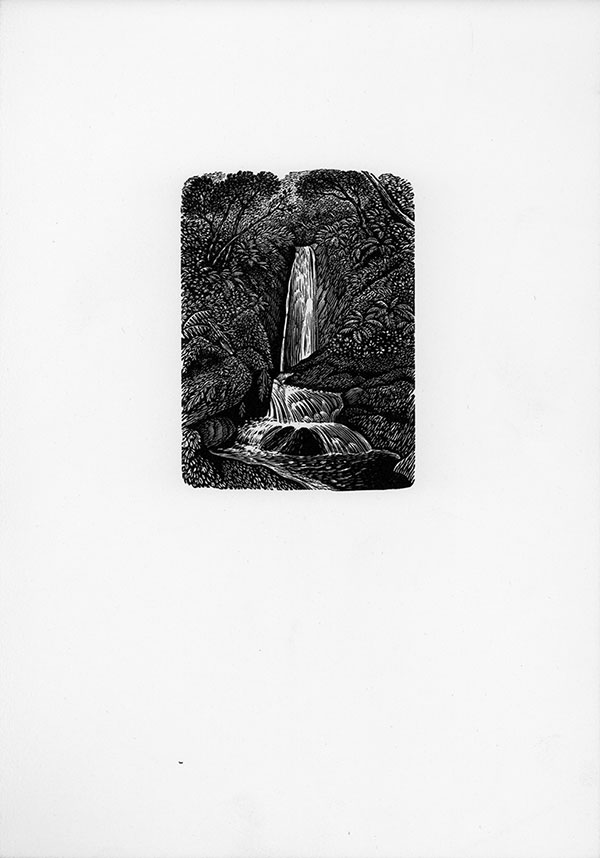 The Waterfall, Reynolds Stone
The Waterfall is a boxwood engraving originally published in Tribute to Benjamin Britten on his Fiftieth Birthday (Faber & Faber 1963). It is here printed from the block on a hand press on dampened mould-made Arches paper by Ian Mortimer at I.M. Imprimit, London.
Extremely limited stock, but some proof copies available.
About the Artist
Reynolds Stone was born in 1909. After reading history at Magdalene College Cambridge he became an unofficial apprentice at the University Press where, influenced by his admiration for Eric Gill he discovered his talent for wood engraving. He rapidly demonstrated an unsurpassed mastery of engraved lettering and illustration from nature. He illustrated numerous books and designed bookplates, bank notes, stamps, two typefaces and cut stone lettering for the memorials to T.S.Eliot and Winston Churchill. He died in Litton Cheney in 1979. A major exhibition of his work was held at the Victoria and Albert Museum in 1982