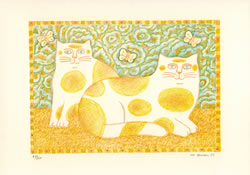 Town Cats, Martin Leman
Original 4 colour lithograph drawn on the plates at The Print Centre, Covent Garden in an edition of 500 numbered and signed copies on 225gsm mould-made paper from St. Cuthbert's Mill. Printed under the artist's supervision by Adrian Lack at the Senecio Press, Oxford.
---
About The Artist
Martin Leman was born in London in 1934. He is famous for his portraits of cats, which he has been painting since 1970. The first of his highly successful books, Comic and Curious Cats, was published in 1979 by Victor Gollancz. Martin Leman lives in London, but spends several months of the year in St. Ives, Cornwall.
---