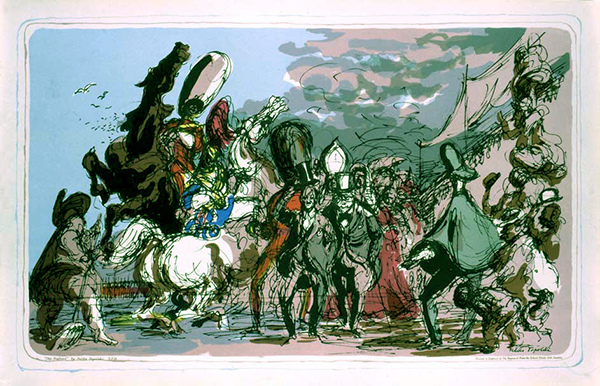 This England, Feliks Topolski
497 × 860mm (19½ × 30 in)
---
About The Artist
The life of Feliks Topolski, born in Warsaw in 1907, encompassed the variety of a Polish childhood, a friendship with George Bernard Shaw, entering Germany with the Allied troops, the Nuremberg trials, the Malayan War and a commission for Buckingham Palace.
He studied art at the Warsaw Academy, and was also a cadet at the Artillery Officers' School. He arrived in London, via Paris, in 1935 to record George V's Silver Jubilee and he became a London figure and friend of George Bernard Shaw whom he painted often.
Wounded in the Blitz, he was a war artist for Poland and Great Britain, spending the Second World War in the Arctic, Italy, Burma and Germany. He visited Belsen and recorded the Nuremberg trials.
After the war, he was invited to India by Pandit Nehru and stayed in the east to see the end of British rule in India and the wars in Indo-China and Malaya.
He spent time in America and returned to Britain, completing the Festival of Britain mural under Hungerford railway bridge (where there is now a Topolski centre) and completing a mural commission in Buckingham Palace for a corridor leading to the State Rooms.