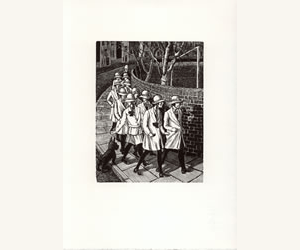 The Crocodile, Tirzah Ravilious
Original engraving on boxwood, printed from the blocks in an edition of 500 copies on 225gsm Zerkall mould-made paper by Ian Mortimer at I.M. Imprimit. This engraving and The Dog Show were commissioned in 1929 by Oliver Simon for a projected but never completed calendar to have been published by the Curwen Press.
Edition sold out
---
About The Artist
Tirzah Ravilious (née Garwood) was born in Eastbourne in 1908. At the age of 17, she entered the Eastbourne School of Art, where she was taught wood engraving by Eric Ravilious, whom she married in 1930. Her collected wood engravings, mainly produced between 1927 and 1931, have been reproduced in The Wood Engravings of Tirzah Ravilious (Gordon Fraser,1987). Despite her obvious skill as an engraver, from 1931 until her early death in 1951, she turned her talents to printing and decorative design.
---