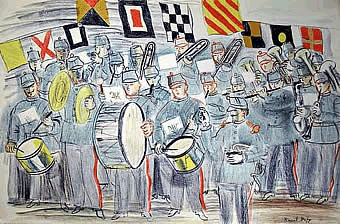 The Band, Raoul Dufy
497 × 860mm (19½ × 30 in)
---
About The Artist
Raoul Dufy was a French painter, printmaker and decorative artist. From the age of 14 he was employed as a book-keeper, but in 1900 won a local grant to study at L'Ecole des Beaux-Arts in Paris where he joined Bonnat's studio.
At the Musée du Louvre he studied the art of Claude Lorrain, to whom he painted several Homages between 1927 and 1947. After the war he found his own personal style, producing rapid but precise drawings of frequently plunging perspectives, to which clear colours are applied with a kind of casual freedom.
Alongside his career as a painter, he worked as an illustrator, fabric designer (for Paul Poiret) and decorator (the Fée Électricité for the Palais de la Lumière at the Exposition Universelle in 1937).
On his visit to the United States in 1950-51, Time Magazine called him the 'granddaddy of modern chic.