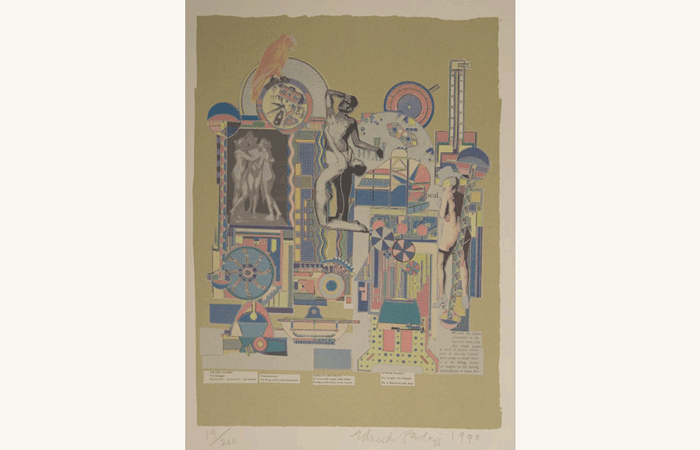 Queen Of The Night, Eduardo Paolozzi
The Mozart Portfolio was a co-production with the Royal Academy in association with the Sunday Times in 1990 and marked the 200th anniversary of Mozart's death. Six prominent Royal Academicians were commissioned to produce original images inspired by Mozart.
Sir Eduardo Paolozzi's image is a symbolic representation of the Queen of the Night from The Magic Flute.
The six Royal Academicians are:
John Bellany
Elizabeth Blackadder
Peter Blake
Eduardo Paolozzi
Tom Phillips
David Tindle
Screenprint in twenty colours, printed at Advanced Graphics on 250 gsm Velin Arches blanc.
Paper size: 20" x 22.5". Image size: 12.5" x 16"
---
About The Artist
Sir Eduardo Luigi Paolozzi KBE RA was a Scottish sculptor and artist.
Paolozzi was a major figure in the international art sphere, while, working on his own interpretation and vision of the world. He investigated how we can fit into the modern world to resemble our fragmented civilization through imagination and fantasy. By the dramatic juxtaposition of ideas in his work, he lets us see the confusion as well as the inspiration.