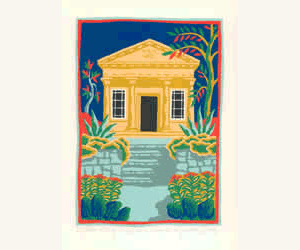 King William's Temple, Lynda Gray
Original screen prints in 8 colours. Hand printed by Peter Morson. Edition limited to 500 numbered and signed copies on 225gsm mould-made paper from St. Cuthbert's Mill.
Sometimes known as The Pantheon, King William's Temple is one of the architectural delights of Kew Gardens. The temple was built in 1837 to the design of Sir Jeffry Wyatville. Its four Tuscan columns support a metope frieze; inside a number of tablets commemorate British victories from Minden to Waterloo.
Numbered & signed edition of 500
---
About The Artist
Lynda Gray was born in Braintree, Essex, in 1947. Her childhood was spent on the Isle of Wight, and she studied art at Portsmouth and Leicester Colleges of art. Since leaving college in 1971 she has worked continuously as a professional illustrator. Her work includes book covers for Penguin and Faber & Faber, magazine illustrations for The Radio Times, The Sunday Times and Esquire, record sleeves and postage stamps. She lives in Worcestershire.
---