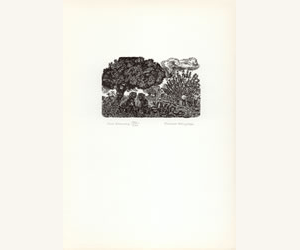 June Morning, Miriam MacGregor
An original engraving on boxwood first printed as an illustration to the poem The Willing Slave in Jim Turner's collection Other Days. It is here printed by Miriam MacgGregor and John Randle in an edition of 500 numbered and signed copies on 225gsm Zerkall mould-made paper.
---
About The Artist
Miriam Macgregor was born in Shillong, Assam, in 1935 and came to England when she was ten. She studied at Guildford Art School and then worked for some years as typographer at the publisher Batsford's.
She started engraving on wood some time after she left art school because it required little space and could conveniently be done in a bedsitter. Her work is characterised by a great affection for the English countryside, which she saw with fresh eyes when she first came to England, to which it took her some years to grow accustomed - hedges and fields in place of mountains and plains.
The buildings in her engravings - usually dilapidated and often glimpsed unsuspectingly from the rear - have much in common with those around her in the Forest of Dean, where she went to live in 1971. Her figures, some equally dilapidated and others full of fun and warmth, all engage our sympathies.