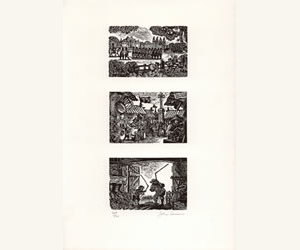 John Clare's England, John Lawrence
Original engravings on boxwood; commissioned for the Oxford University Press edition of Autobiographical Writings of John Clare; hand printed from the blocks by Ian Mortimer at I.M. Imprimit; numbered and signed edition of 500.
---
About The Artist
John Lawrence is one of Britain's best known illustrators. He was born in Hastings in 1933 and studied at the Hastings College of Art before going on to the Central School in London in 1955. Since 1960 he has been a visiting lecturer at the Camberwell School of Art, whose Camberwell Press publish his Selected Engravings. Among the more than fifty books he has illustrated are Watership Down for Kestrel, The Magic Apple Tree, Rabbit & Pork and The Diary of a Nobody.