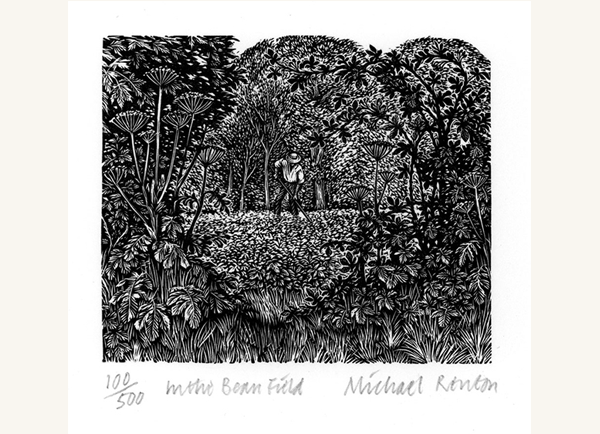 In The Beanfield, Michael Renton
An original engraving on boxwood printed from the block in a numbered and signed edition of 500 copies on velin d'Arches paper by Ian Mortimer at I.M. Imprimit, London. It was originally commissioned as an illustration for The Folio Society edition of Walden by Henry David Thoreau.
---
About The Artist
Michael Renton was born in Middlesex in 1934. After a year at the Harrow School of Art, he was apprenticed to the trade blockmakers S. Slinger in 195I. He thus became the last practising wood engraver to learn his craft as an indentured apprentice. During and for some time after his apprenticeship, he was a part-time student at the City and Guilds of London Art School. Finally leaving Slinger's in 1960, Michael Renton settled in East Sussex and worked as a designer, lettering craftsman and wood-engraver. Before his death in 2001 he moved to Winchester where he re-designed the lettering used by the Cathedral.