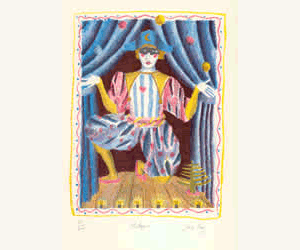 Harlequin, Jane Ray
An original 5 colour lithograph drawn on the plates by the artist at the Curwen Studio and printed in an edition of 500 numbered and signed copies on St Cuthbert's 225 gsm all rag paper by Adrian Lack at the Senecio Press, Charlbury, Oxfordshire.
Very low stock
---
About The Artist
Jane Ray was born in London in 1960. She trained at Middlesex Polytechnic and began her career by designing greetings cards and wrapping paper. She is now known internationally as a children's picture book artist, and also continues to enjoy success with her card designs. She was shortlisted for the Mother Goose Award for her first book, A Balloon for Granddad and won The Smarties Prize (6-8 category) for The Story of the Creation. She has been shortlisted three times for the Kate Greenaway Medal, for Noah's Ark, The Story of Christmas and The Happy Prince. She was also shortlisted for the Kurt Maschler Award for Song of the Earth, which was written by Mary Hoffman.
Jane is married to the conductor David Temple, and has three children.
---