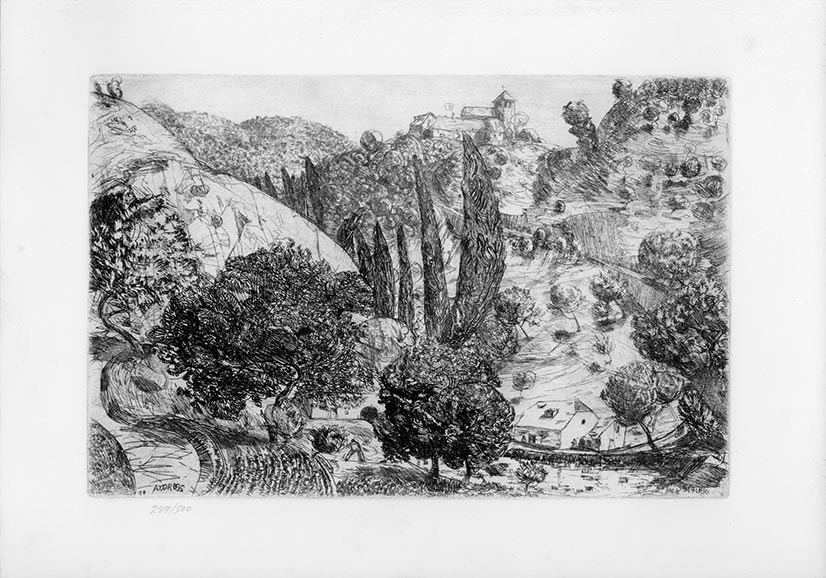 Chasteaux Correze, Anthony Gross
Chasteaux Corrèze is an etching on copper made in 1929. Other than a few artist's proofs the plate has not been previously printed. This edition of 500 copies has been hand printed by the artist's daughter, Mary West, at his studio on 270gsm Arches paper.
Extremely limited stock of signed prints
Some unsigned
---
About The Artist
Anthony Gross was born in 1905 in London and trained at the Slade and Central Schools in London, Paris and Madrid. As a young man he traveled extensively in Europe and his first one-man exhibition was held in London in 1925. During he 1920s and 1930s, he lived and worked almost exclusively in France.
He returned to England in 1939 and from 1941 to 1946, served as a war artist. Since 1955 he has divided his time between London and the village of Le Boulvé in the Lot district of France and it is the landscape of this area which has provided most of the subject matter for his paintings, etchings and engravings in recent years and which also inspired his recent publication The Very Rich Hours of Le Boulvé.
His work has been extensively exhibited internationally, in London at a complete retrospective exhibition of his graphic work at the Victoria and Albert Museum in 1968 and a more generous retrospective exhibition at the New Art Centre in 1976. He has had a further graphic retrospective exhibition at the Royal Society of Painters, Etchers and Engravers in November 1982. In 1980 he won the Charles Wollaston Award for the most distinguished painting in the Royal Academy Summer Exhibition and in June 1982 he was awarded the CBE.