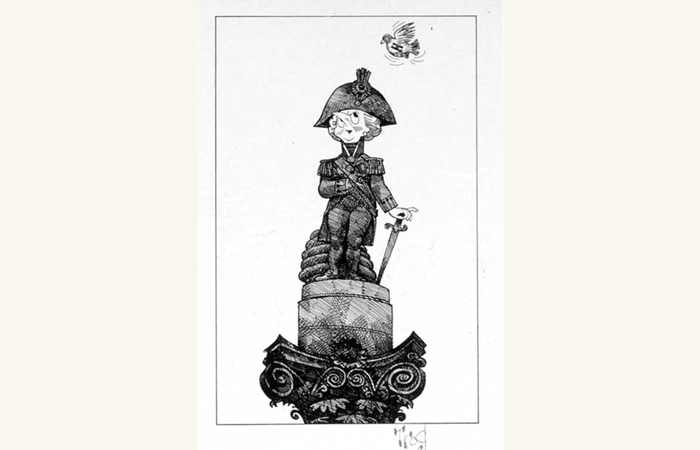 Cartoon 2, Walter Fawkes
---
About The Artist
Walter Ernest "Wally" Fawkes is a British-Canadian jazz clarinetist and a satirical cartoonist. As a cartoonist, he generally worked under the name of 'Trog' until failing eyesight forced him to retire from cartooning in 2005 at the age of 81 to concentrate solely on his clarinet playing.
Fawkes' most creation work as a cartoonist was 'Flook' – the unlikely and increasingly satirical comic-strip adventures of its small and furry eponymous hero, which first appeared in the Daily Mail in 1949. Fawkes's role was chiefly as illustrator, and he had a strong team of collaborators on the scripts for Flook over the years, including George Melly, Barry Norman, Humphrey Lyttelton and Barry Took. 'Flook' ran for 35 years in the Daily Mail, and despite Margaret Thatcher's comment that 'Flook' was "quite the best commentary of the politics of the day" it was suddenly cancelled by the paper in 1984. Robert Maxwell took 'Flook' to the Daily Mirror, from where it transferred briefly to the Sunday Mirror before being dropped completely.
As well as his work for the Daily Mail, Fawkes also produced political cartoons for The Spectator working with George Melly as his author. The two also produced occasional contributions for Private Eye, and from 1962 The New Statesman. Despite producing larger political cartoons for the Daily Mail, his future role as Illingworth's successor as lead Cartoonist, was threatened by the paper's preference towards the work of Gerald Scarfe. Fawkes therefore began submitting work to other publications and he began contributing political cartoons to the The Observer. At The Observer he fell foul of reader anger when some of his cartoons aimed at the British royalty were described as being "grossly discourteous to the Queen". In 1967 Scarfe left the Mail and Fawkes' position at the paper became more secure, and in 1968 he stopped writing for The Observer to concentrate at The Daily Mail.
When Illingworth retired as The Daily Mail's political cartoonist in 1969, Fawkes took over the role. That year he also replaced Illingworth as political cartoonist of Punch. Then in 1971, The Daily Mail absorbed The Daily Sketch, and the role of transforming the old paper from a broadsheet into a tabloid fell to the old Sketch editor David English. He gave the role of political cartoonist to Stan McMurtry and Fawkes found himself dropped from his old role. Fawkes returned to The Observer in 1971, while continuing to work for Punch. After 'Flook' was cancelled in 1985, Fawkes worked briefly for Today from 1986 before a short stint at the London Daily News. During the 1980s he continued to contribute to work to both Punch and Private Eye and for the Observer he drew a pocket cartoon named "mini-Trog". In 1996 he left The Observer and joined The Sunday Telegraph. He remained at the Telegraph until failing eyesight forced him to retire in 2005.
In 2013 his work was celebrated with an exhibition at the Cartoon Museum of London.