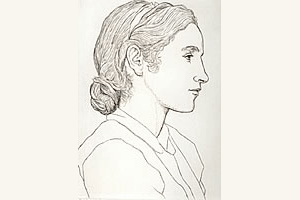 Daisy Monica, Edgar Holloway
254 x 381mm (10in. x 15in)
---
About The Artist
Edgar Holloway was born in Doncaster in 1914. He largely taught himself printmaking from books, although he did attend evening classes at Doncaster School of Art, and later during the 1930's at the Slade in London. His first one-man exhibition was held at the Twenty One Gallery in 1931. Since that time his work has been regularly purchased by the British Museum which now has a collection of sixteen Holloway prints.
Influenced by the writings of Eric Gill, Holloway visited Pigotts and met Mary Gill in 1940. Subsequently he visited Capel-y-ffin where he met and within six weeks married Gill's model Daisy Monica Hawkins. Through most of the 1940's they lived in Capel-y-ffin. In 1949 he was invited by Philip Hagreen to join the Guild of St. Joseph and St. Dominic, and moved to Ditchling Common, where he still lives.
During the 1950's and 60's he made his living drawing maps and designing book jackets and only resumed etching in 1968. Since that time his reputation as a printmaker has grown steadily with exhibitions in Britain and America, culminating in a major retrospective at the Ashmolean Museum in Oxford.
---